It was an up-and-down season for the 2019 Colorado Buffaloes. After the final whistle blew against Utah on November 30, 2019, the Buffs found themselves at 5-7, an all-too-familiar record.
Home Play Needs to Continue to be a Strength in 2020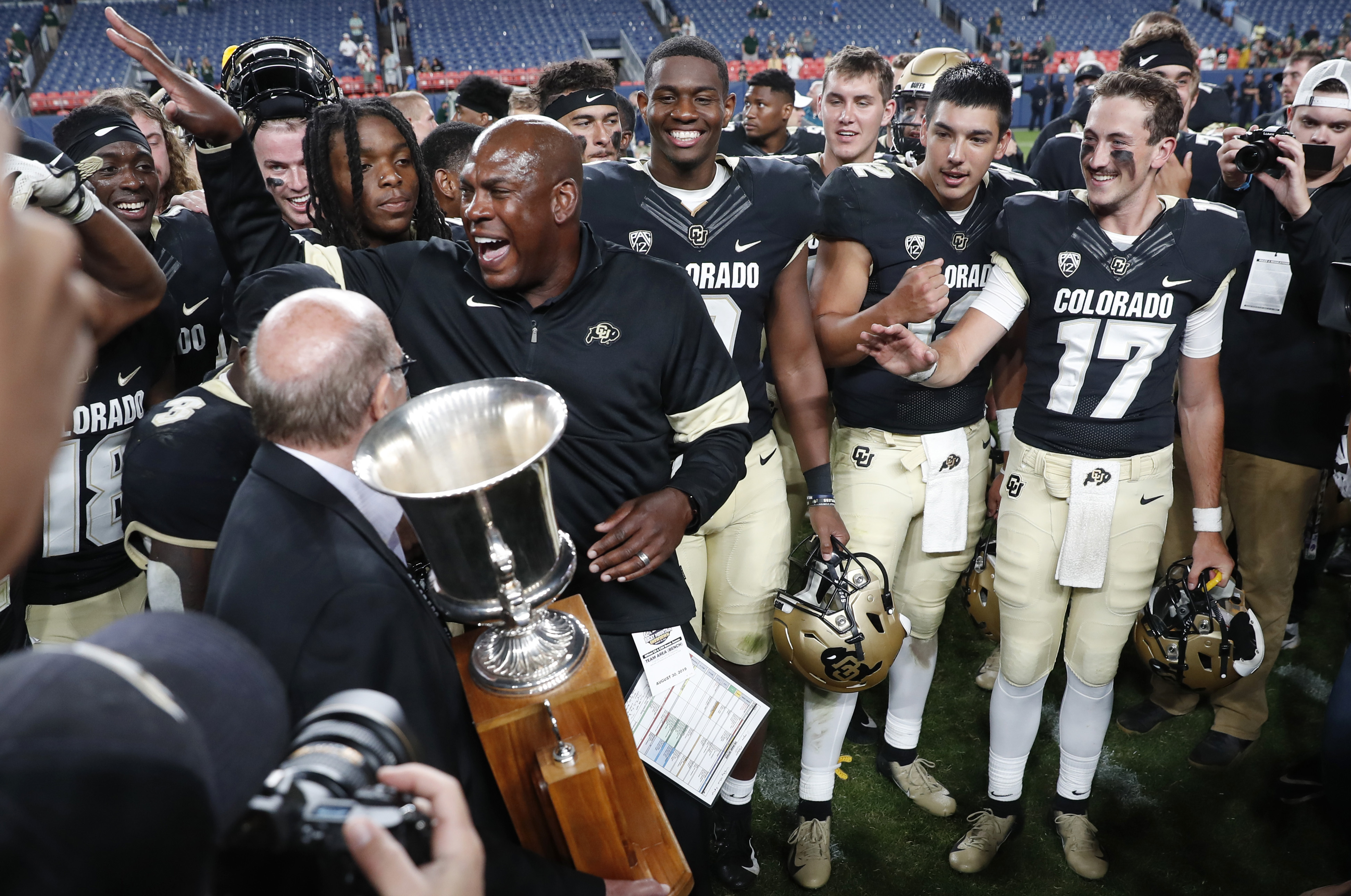 The 2019 season was the third straight 5-7 season for Colorado Buffaloes Football. What can CU do to break the 5-7 "curse" of sorts? They can build upon the successes in the first year of the Mel Tucker era. No one outside of Boulder expected the Buffs to have November wins against Pac-12 stalwarts Stanford and Washington. Also, every Buffaloes home game was decided by one possession. The Buffs went 4-2 in these games. For 2020, the Buffs will need to build upon their valiant efforts at home against all opponents.
Road Play Absolutely Has to Improve in 2020
However, one area where the Buffaloes will absolutely have to improve in 2020 is their road play. Counting out the neutral-site win over Colorado State in College Football Week 1, the Buffs went 1-4 on the road this season. They won their first true road game of the season against then-ranked Arizona State. No one expected the Buffaloes to win this game. Unfortunately, the rest of the road slate for CU turned out as many expected it to. They were outscored 162-42 in their last four road games against Oregon, Washington State, UCLA, and Utah.
Listen to the Best Pac-12 Podcast
In non-conference play, the Buffs will go on the road to play Colorado State and Texas A&M in 2020. Many will expect the Buffaloes to beat CSU, but no one will expect the Buffaloes to beat Texas A&M. Being competitive in this early season road test against the Aggies will do wonders for Mel Tucker. Fans will feel much more confident in the ability of the Buffaloes to take their relentless attitude on the road.
At home, Colorado will only have one non-conference game against Fresno State next season. Many college football fans, both impartial and partial to the Buffaloes, will hope for them to be 2-1 going into conference play. With two non-conference wins the Buffaloes will need to go 4-5 in Pac-12 play to make a bowl game. This is a huge ask, considering how the Buffaloes have only won four conference games once since joining the Pac-12 in 2011 (eight wins in 2016).
Can the 2020 Colorado Buffaloes Win More Pac-12 Games?
Along with the regular Pac-12 South opponents, the Buffaloes will have games against Pac-12 north will play Oregon and Washington State at home while traveling to play Stanford and Washington. The games can be put into two categories: good chance to win and not-as-good chance to win.
Good chance to win: UCLA, Washington State @ Arizona, @ Washington, @ Stanford
Fans should have more confidence in these games due to the Buffaloes being able to beat Washington and Stanford this season. They beat UCLA at home in 2018. Road games are tough to put in this category, as the Buffaloes just were not consistent enough on the road in 2019. Fans will hope that the Buffaloes can go either 3-2 or 4-1 in these games. It is going to come down to playing better on the road for the Buffaloes. With more of his recruits playing there is more pressure on Mel Tucker to get the job done.
Not-as-good chance to win: Oregon, Arizona State, Utah, @ USC
Since joining the Pac-12, CU has been historically bad against Oregon, USC, and Utah. There is no reason to think the Buffaloes will be favored in any of these games. However, they have had a propensity for beating Arizona State the last few seasons. Unfortunately for the Buffaloes and the Pac-12, Arizona State quarterback Jayden Daniels has the looks of a quarterback ready to take over the Pac-12. If the Buffaloes can win one of these games, however, it may propel them to a bowl berth.
Final Verdict: The 2020 Colorado Buffaloes Will Finish 6-6
The Buffaloes are losing arguably their top three players on offense: Quarterback Steven Montez and wide receivers Laviska Shenault, Jr., and K.D. Nixon. The latter two decided to forego their senior season and declared for the NFL Draft. They will also be without standout graduate transfer safety Mikial Onu on defense in 2020.
Finishing 6-6 is an attainable goal for the Buffs. Going 4-5 in-conference is an attainable goal for the Buffaloes, and Mel Tucker will have more of his recruits playing, including Brendan Rice, the son of San Francisco 49ers Hall of Famer Jerry Rice. Tucker may also be getting the services of Antonio Alfano, a transfer defensive end from Alabama who has been hyped up locally. Tucker will also be getting a dual-threat quarterback prospect in Brendon Lewis, who is from Melissa, Texas.
Fans will want to see improvement from year one to year two of the Mel Tucker era. It is vitally important for Tucker to make the 6-6 mark. It would bring more exposure to the team nationally and it would help the team's "relentless" mantra be broadcast to a wider audience, including possible recruits. No one is expecting the next few years of Colorado Buffaloes football to be Bill McCartney-esque, but it is important for Mel Tucker to get the program away from the "just another Pac-12 opponent" label.